Tiffany O'Keeffe
UX Designer
Uncanny Cardboard
Aligning business goals with customer needs
CLIENT
Uncanny Cardboard
MY ROLE
UX Designer. Persona creation, affinity mapping, wireframing, visual design.
PROJECT SUMMARY
An independent boardgame publisher's website designed mobile-first
Uncanny Cardboard was an independent boardgame designer and publisher based in Ireland. They sought to have a website built featuring an online store to boost sales. The website was designed mobile-first, progressing from low fidelity wireframes to high fidelity visual design.


Discovering customer needs
I sent out a survey to online boardgame communities about their buying habits and what information they find relevant when visiting publisher websites. The personas, user journeys, and information architecture for the website were drawn from the survey results.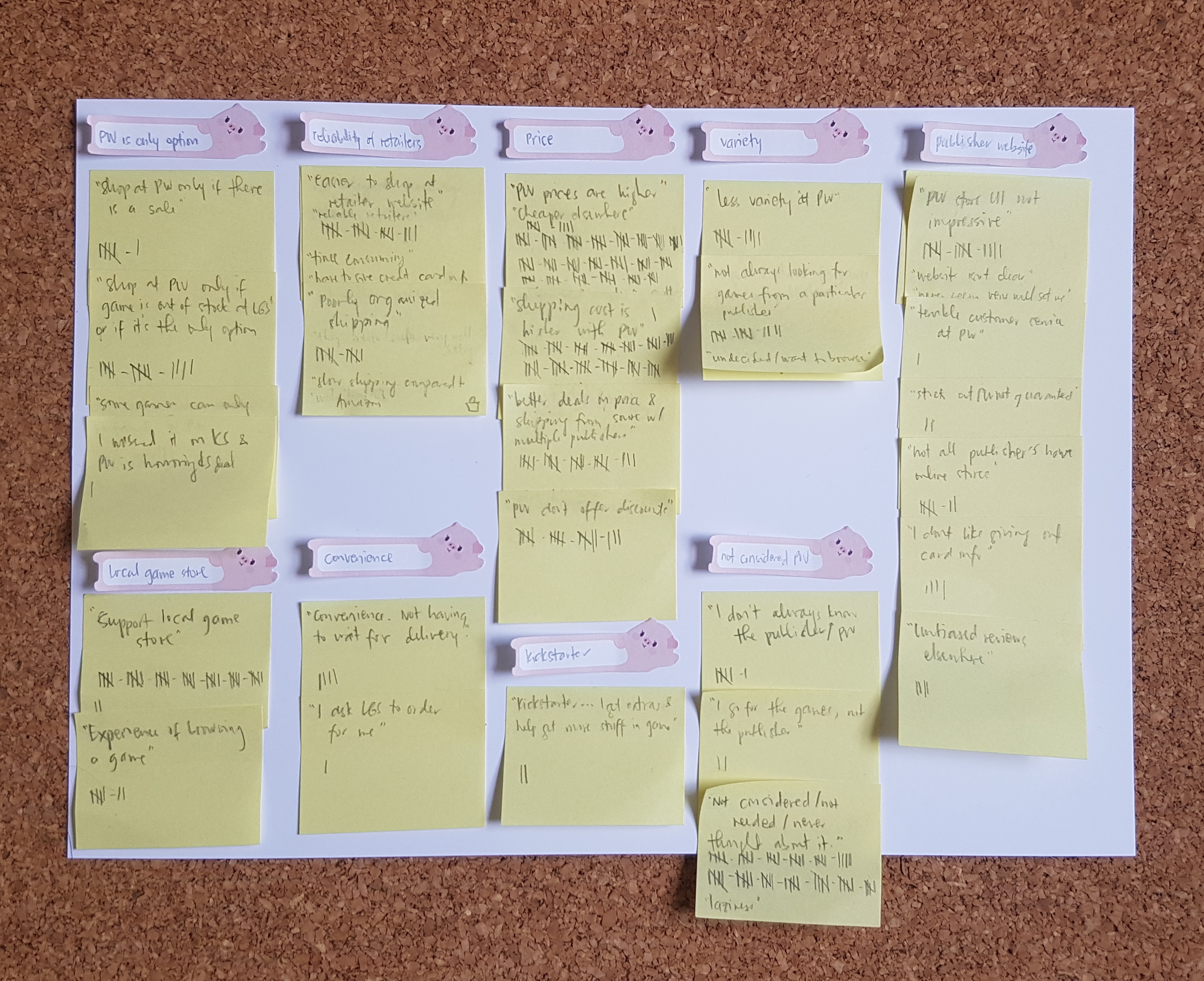 I also produced an affinity map of the reasons why (or why not) customers buy directly from game publisher websites. I further synthesised it into nine main groupings.
Interestingly, the results revealed that customers were less likely to buy games directly from publishers for a variety of reasons including:
Better deals on price and shipping elsewhere e.g. Amazon
Preference to see a variety of games from different publishers for comparison
Not always know the publisher, but know the game title
Preference to support their local game store
Customers who buy direct from publishers do so for exclusive deals (pre-order discounts, limited edition releases, etc.) or stock reasons (out of stock at local game store, publisher has the only stock, Kickstarter finished but still honouring deal at website). Some do so to support the publisher, but only if they are a small business with no distributors — for example, self-published games that are not available in retail stores.


A shift in business goals
A huge majority of the respondents noted they visit publisher websites mainly to get details on a particular game or new releases. This insight resulted in the goal changing from driving sales to providing a good experience in delivering news and information to customers. In the designs, this translated to highlighting special announcements in the hero section of the home page, followed by latest news, then a link to the Shop page.


Design Decisions
Number of players and duration are some of the information people would like to know about a boardgame. I placed these details right below the product images in the shop so they are easy to spot.
Customers can also view shipping information on the product details page so they don't have to wait until the checkout process to find out. This reduces the number of clicks and makes it easier for customers to decide whether or not to buy an item. The price of shipping sometimes puts off a customer from completing the purchase.